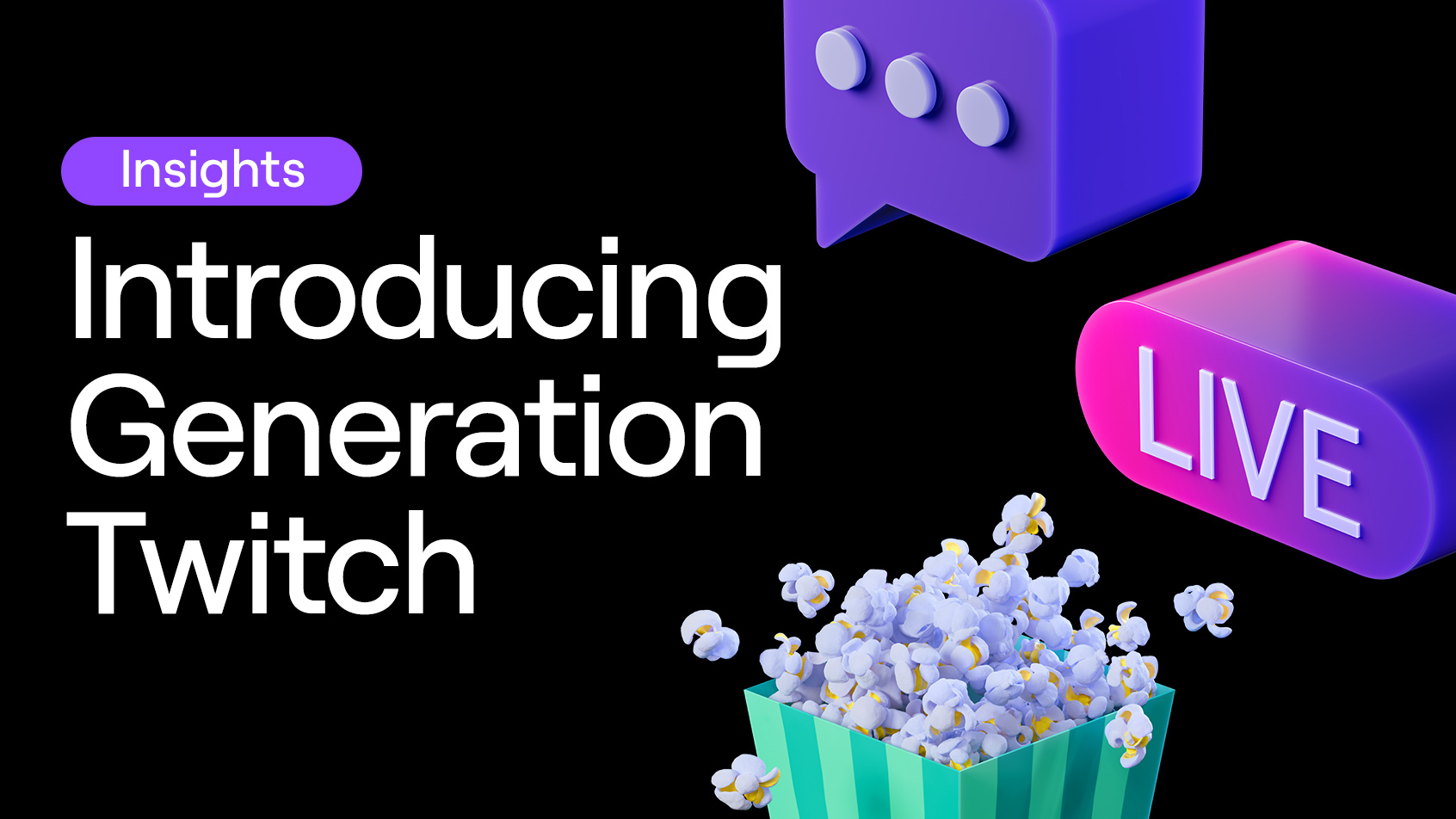 What marketers should know about engaging Generation Twitch
Generation Twitch is a multi-generational audience connected by shared values, behaviors, and beliefs. Who are they, and how can brands best engage with them?
Throughout history, the youngest demographics with spending power have led some of the largest shifts in culture. Baby Boomers helped cement the television's place in living rooms around the world and reinvented music through their love of rock and roll. Millennials redefined how we connect with our friends, families, and communities through the mass adoption of social media—and Gen Z took connectedness to new levels.
On Twitch, a large portion of the community are younger Millennials and older members of Gen Z. With shared experiences and values, and a love for livestreaming content, we call this combined audience 'Generation Twitch.'
We conducted a global research study including a semiotic review, online research on the Twitch community, creative focus groups, and a survey with over 6,000 respondents to better understand how to reach, engage, and bring value to this dynamic audience. We uncovered key shifts in behaviors and values that define how Generation Twitch approaches culture, community, and entertainment.
Generation Twitch seeks authentic, fluid, and collaborative experiences.
Generation Twitch grew up in a digital world, and the lines between the "real world" and the virtual world are growing more and more blurred each day. As such, these younger adults expect most things in life—from ordering dinner to shopping for a new wardrobe to watching their favorite video content—to be a seamless, fluid experience.
In addition to emphasis on fluidity, Generation Twitch is trading in passive experiences for something more collaborative. While this audience still enjoys a TV binge, they have grown accustomed to the interactivity technology affords them, such as cooperative online gameplay and livestreams that allow them to contribute to their content rather than simply consume it. Building on collaboration, Generation Twitch is community-oriented, and values inclusivity over exclusivity. They overwhelmingly believe that everyone should have the access and opportunity to enjoy the things they love, no matter where they are in the world or what type of background they have.
One of the most prevalent shifts found in our research is that younger adults are trading in curated content and experiences for those that are more authentic. Generation Twitch grew up with friends, celebrities, and influencers sharing hand-picked moments from their daily lives and digitally enhanced photos on their social media. Now, these younger adults expect authenticity and honesty—from their friends, from influencers, and from brands that engage with them. 
How can brands connect with an audience that values authentic, purposeful connection?
Lean in. Twitch's live nature keeps viewers engaged.
Outside of being entertained, having fun, and seeing their favorite streamers in action, viewers come to Twitch to experience content that happens in real time and learn something new. Like sports fans watching their favorite team compete in a game, viewers come to Twitch because they enjoy watching others who are skilled, passionate, and entertaining at what they do. Unlike most content on TV, Twitch offers viewers an opportunity to be a part of the entertainment.
Twitch allows viewers to experience the community and camaraderie of live entertainment simultaneously—no matter where in the world they're located. Features including chat let viewers interact with streamers and one another in real time. 75% of Twitch viewers surveyed agree that content on Twitch means more because what they're seeing is happening and unfolding right now.
Twitch takes "You had to be there" moments to the next level for streamers, viewers, and brands. Livestreams let viewers experience emotional moments with their favorite content in real time: Big wins in competitive gaming tournaments, surprise twists during roleplaying games, new songs during musical performances, and so much more. In fact, nearly four in five viewers surveyed agree that they are more engaged and attentive to Twitch content because it's live.
Generation Twitch's attentiveness extends to brands that appear on the livestreaming service, with 72% of Twitch viewers surveyed agreeing that the service's interactivity helps make advertising more interesting.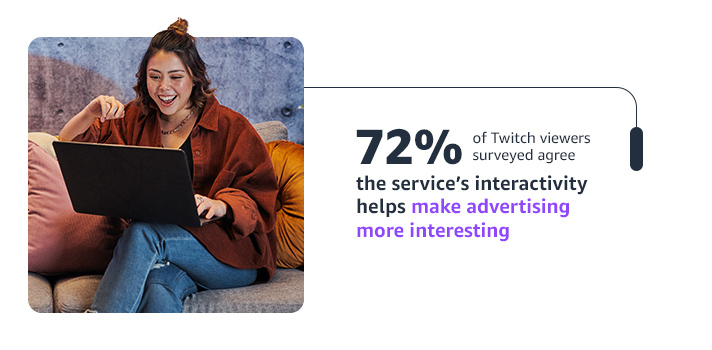 Twitch is for everyone—including brands. 
As we've mentioned in the past, Generation Twitch understands how ads, sponsorships, and other brand collaborations help their favorite streamers earn an income. This awareness can help brands build positive associations and perceptions among viewers—especially when they demonstrate their support for Twitch streamers and viewers in meaningful ways. Twitch offers marketers and advertisers the opportunity to support passionate streamers and growing communities, build authentic relationships, and be a part of the magic of live experiences.
Streamers can be a brand's best friends. 
Twitch wouldn't be Twitch without the millions of passionate, creative streamers who broadcast live content to their communities. Twitch viewers have an immense amount of respect and admiration for their favorite streamers, and consider showing their support for streamers integral to participating in the Twitch community. 69% of Twitch viewers surveyed reported that they are more likely to consider brands that their favorite streamers use themselves.
When it comes to working with streamers, one thing is for certain: It's all about finding the right fit. 76% of Twitch viewers surveyed agree that it's important to get the right fit between streamers and brands. The right streamer doesn't need to be the most-followed streamer on the service, but they should be a streamer who aligns with your brand authentically and can share genuine love for your products with their communities.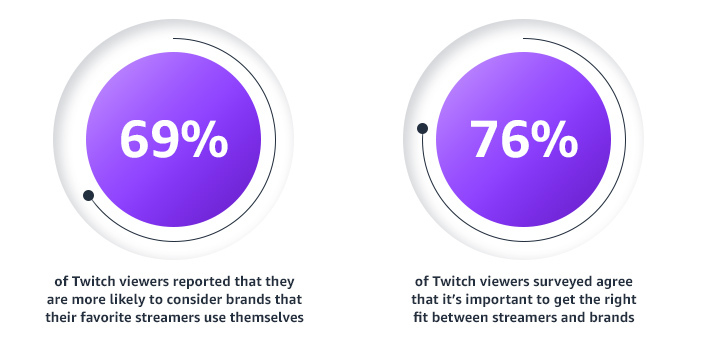 Sources:
Value of Twitch. Twitch Research Power Group (RPG) (n=75) & PureProfile. Twitch weekly users 18 - 45 n=4551. Sept to Dec 2021. US, DE, JP, BR, UK, FR, IT, ES, AU, KR, TH, TW.