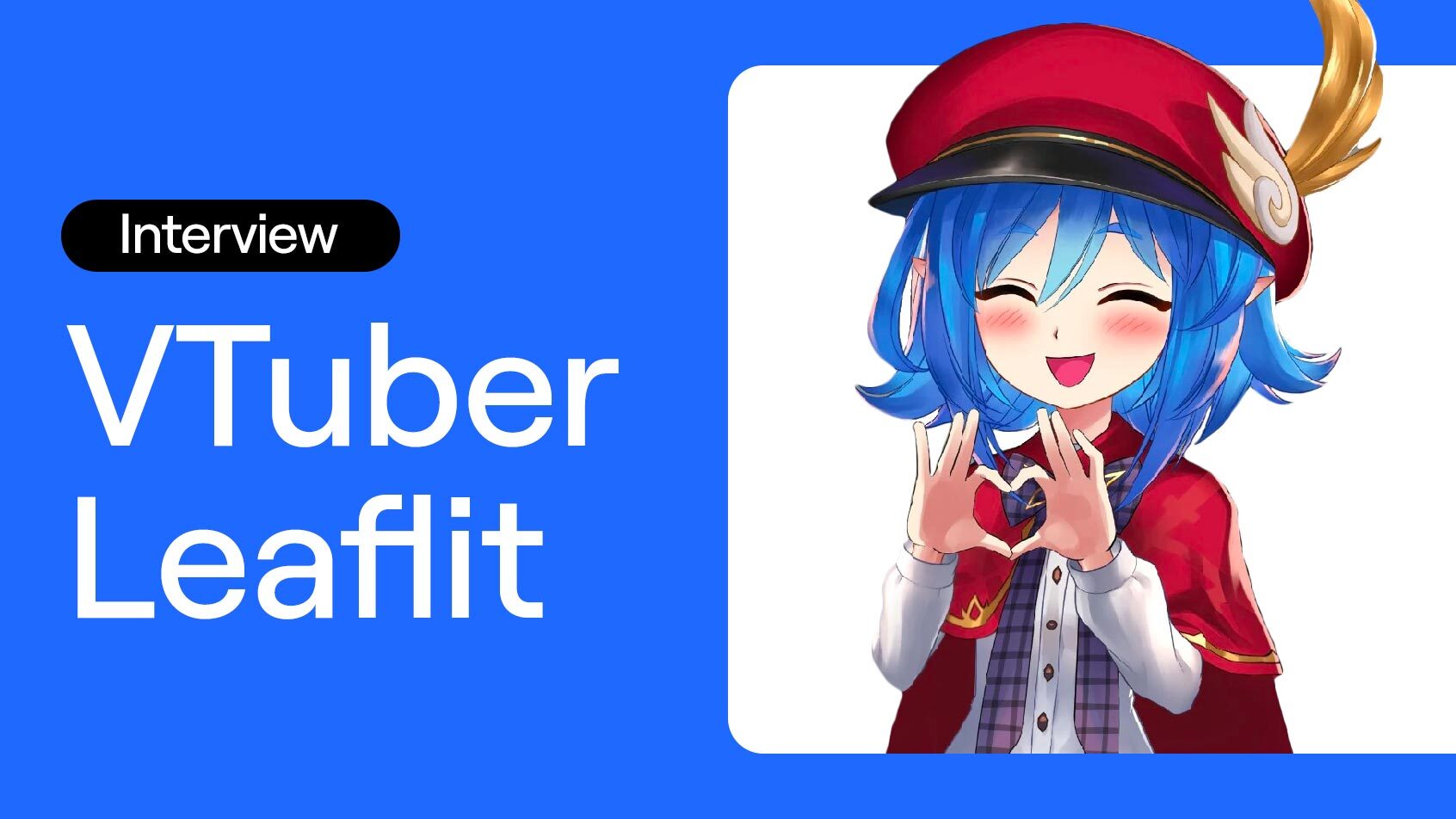 What is VTubing and why should brands take notice?
Twitch streamer and virtual content creator Leaflit shares their experience creating content as a VTuber and explains why the VTubing trend is here to stay—and why brands should take notice.
You may not have heard of it yet, but VTubing might just be your new favorite genre to watch. Viewership of VTubing content on Twitch grew 350% between January and August 2022 compared to the same time frame in 2021.
VTubers are online content creators who make video content with a virtual avatar. Each VTuber has their own avatar that they either commissioned from an artist, bought pre-made through a marketplace, or designed themselves. The characters then come to life on streams through the use of animation software programs, motion capture technology, or a combination of the two. 
We asked one of Twitch's most passionate VTubers to help unmask the phenomenon and explain why it's a captivating format for streamers, viewers, and brands. 
What exactly is VTubing, and why has it become so popular?
Twitch streamer, virtual content creator, and founder of Angel's Sword Studios Leaflit explains that while the concept may seem simple, the definition of "VTuber'' varies widely. Some VTubers might consider their virtual avatars to be extensions or alternate versions of themselves, while others consider these avatars to be fictional characters with identities of their very own. Leaflit adds, "It really depends on the person, which is why it's so difficult to really put it narrowly into a category."
VTubing originated in Japan in the 2010s. By 2020, this new form of online content creation was becoming popular with English-speaking audiences. VTubing, which traces its roots back to anime, manga, and elements of Japanese pop culture, can credit its popularity to advancements in technology and shifts in pop culture. Improved video technologies and the democratization of animation software programs have given streamers new ways to present themselves to their audiences. Anime and its associated aesthetics have become increasingly popular on a global scale, especially among younger adults, and VTubers allow fans of this type of content to engage with that world in a more interactive way.
VTubers can be anyone—or anything—they like. Virtual avatars can be designed to replicate your real life appearance, to reflect an idealized or more authentic version of yourself, or to conceal your identity completely. The anonymity and privacy offered by VTubing can give streamers even more room for  freedom of expression.
Online content creation, especially for women, has been [focused on] physicality and how you look on screen. You know, spending lots of time on your clothing, on your makeup, and that kind of thing, right? How [you] look on screen can really affect how well you do, but VTubing has kind of turned that on its head and equalized [streaming] in a way. It now becomes an issue of how entertaining you are and removes a lot of that physicality. I think that's why we've seen such a boom. A lot of streamers, even established IRL streamers, are trying out VTubing because it really gives you that kind of freedom.
VTubing can open new creative pathways for streamers.
While the streamer behind Leaflit has been creating content for over a decade, the character—a half slime, half faerie receptionist at an adventuring guild—made her official Twitch debut in June 2020 and joined the Twitch Partner program in September of the same year. Leaflit has continued streaming content ranging from gameplay to talk shows with podcast-style interviews. Leaflit has even brought her show on the road with IRL and travel content. "There are so many things you can do with livestreaming. Why limit it?" quips Leaflit.
Some aspects of VTubing are no different from broadcasting typical livestreams, such as cultivating a community. Leaflit shares, "You've got to put time and effort into your community. A good community doesn't just come naturally. You have to spend time actually hanging out with people and really fostering relationships. I think the most healthy way to do that is by trying to build relationships between your community members, rather than just with you. I know what it's like to be alone. So I'm like, let me build something where people can meet other people that are into what they're into, so they're not [always] having to solo queue." 
VTubing does, however, require software and technology beyond what's necessary for a typical livestream. Playing video games as VTuber is simple compared to livestreams in which the virtual avatar engages in other tasks like cooking or traveling. Today, VTubers like Leaflit are experimenting with hybrid content to help bring their avatars into the real world and integrate them into the types of content that traditional streamers can do more easily.
The opportunities for brands are as diverse as the VTubers themselves.
While VTuber livestreams are similar to traditional livestreams in many ways, they're also markedly different. The colors can be brighter. The visuals can be more eye-catching. There's a novel quality to the aesthetics of a VTuber's livestream, and that novel quality extends to the VTuber's personality. These virtual avatars often have intricate identities and backstories; they can engage in all sorts of activities, hobbies and professions; and they can be a part of larger, interconnected virtual worlds complete with virtual friends and families. All of this gives advertisers even more options to consider when pairing a brand or product with a streamer for sponsored livestreams or other activations on Twitch.
Leaflit advises that advertisers and marketers lean into these creative aspects as much as possible.
Take advantage of the fact that we are virtual. Think of it this way. How would you want your ad to look in a comic book? Or how would you want your ad to look in a cartoon or something like that? Or a movie? Since our characters are fictional—like, I'm a slime from a different world. I work at a guild, I wield a sword, and I am an adventurer—there are so many things that you can do.
So far, Leaflit has found success working with video game publishers and brands endemic to Twitch, as well as brands in the culinary space, such as those that offer meal kit delivery services. VTubers are creative by nature and eager to find authentic ways to welcome brands into the worlds they've created for themselves and their communities.