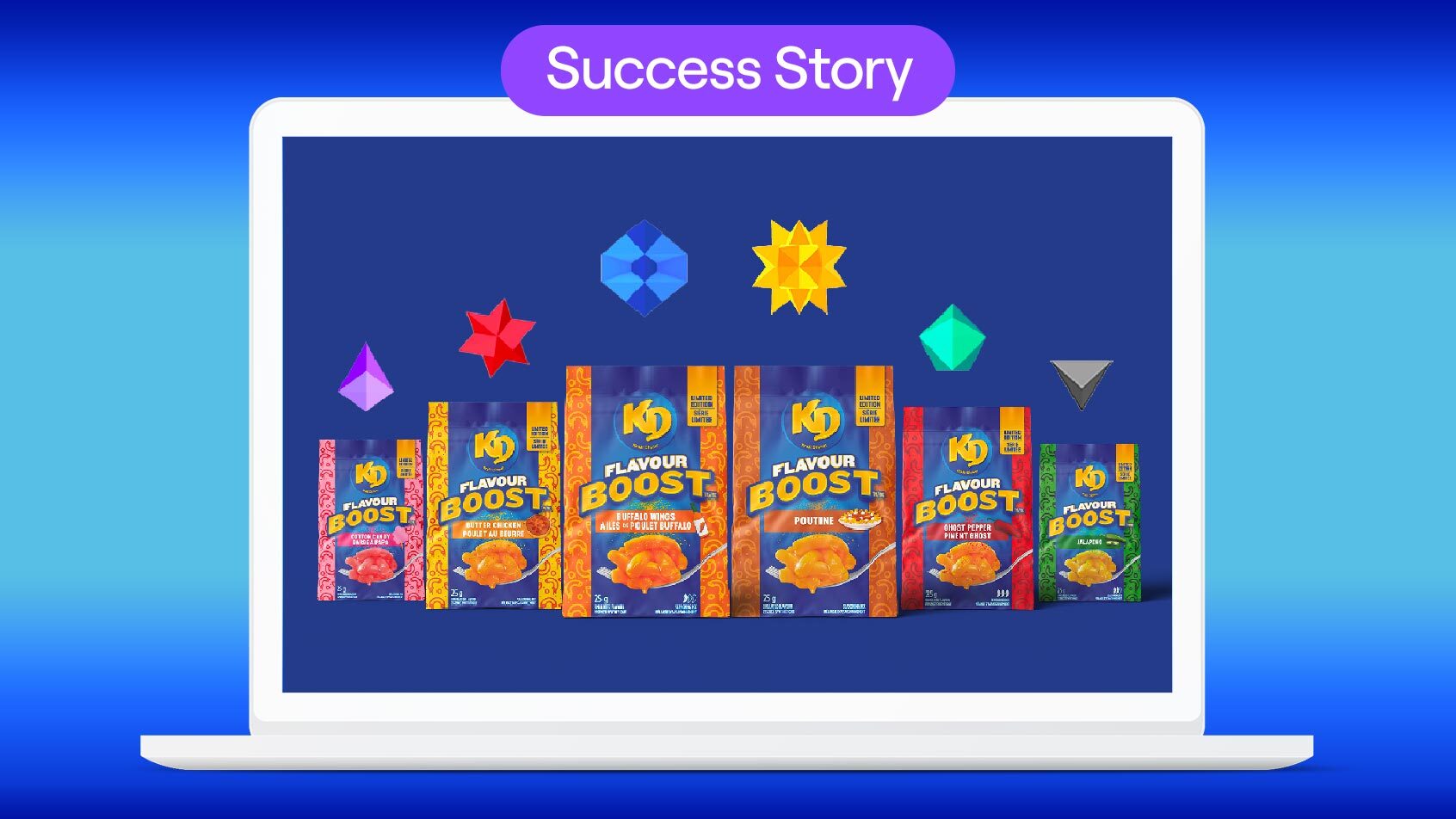 How Kraft Dinner gave meal time a boost with Twitch streamers
Even a classic like KD can benefit from an added boost. Learn how Kraft Heinz Canada promoted KD Flavour Boost with up-and-coming Twitch streamers.
KD for dinner. KD for lunch. KD for snack time. Kraft Dinner is made to be enjoyed any way—and any time—you like it. The unofficial national dish of Canada can now be enjoyed spicy, savory, or sweet with KD Flavour Boost. With its "Bits for Boost" program, Kraft Heinz Canada teamed up with Twitch to introduce six new flavors to the largely Gen Z and  Millennial livestreaming community through the first Kraft Streaming Store on Twitch.
Kraft Dinner delivers craveable flavors to an audience with an appetite for adventure
Kraft Dinner has been at the center of Canadian dinner tables since 1937. Now, KD is offering mac and cheese lovers six new ways to experience the cheesy goodness they know and love: Buffalo Wings, Butter Chicken, Ghost Pepper, Jalapeno, Poutine, and Cotton Candy.
These bold new flavors are designed for young adults who have an appetite for
adventure, but how is a grocery store staple to reach an audience that prefers their shopping online and their entertainment streamed? That's where Twitch comes in.
Kraft Heinz Canada aimed to raise awareness for its boldest mac and cheese—while being true to the spirit and culture of the Twitch community. Working with Twitch's Brand Partnership Studio, Kraft developed the first Kraft Streaming Store on Twitch with rising streamers tending to the register.
Introducing Bits for Boost: Canada's first-ever stream shop
Canada-based streamers Sloot, JessU, and TheStaceyRoy each took a shift hosting KD-sponsored livestreams as unique as cotton candy-flavored mac and cheese. Viewers tuned in the streams to watch their favorite streamers taste-teste all six varieties of KD Flavour Boost and witness their live reactions to the  spicy, savory, and sweet KD creations.
The interactive livestreams offered viewers numerous ways to enjoy KD's cheesy goodness. Taking inspiration from the in-game stores Twitch viewers and gamers were accustomed to, the KD Boost Shop allowed viewers to Cheer with 500 Bits, Twitch's virtual goods used for  supporting streamers, for a six-pack of KD Flavour Boost. By the time doors closed on the virtual store, more than 70 Canadian viewers Cheered with Bits³ in exchange for their very own pack of KD Flavour Boost.
Viewers also had the chance to unlock prizes provided by Kraft, including gear to give any gamer's setup a boost and 30-packs of KD Flavour Boost by typing #KDBoost into Chat during the livestreams. 90 prizes were given away across the three livestreams, in addition to 600 gifted subs—subscriptions to streamers' channels that unlock exclusive perks like subscriber-only Chat and custom emotes and badges.

Boosting Awareness with Twitch advertising solutions
Kraft Heinz Canada used a variety of Twitch advertising solutions to boost awareness for KD Flavour Boost during the months leading up to the three sponsored livestreams, and keep Canada's unofficial national dish top of mind with Canadian Twitch viewers. 
KD reached viewers with unskippable, above-the-fold ads across desktop, mobile, console, and more through Premium Live Video ads. With First Impression Takeovers, KD Flavour Boost starred in the first ads Canadian viewers saw each day upon visiting Twitch. KD'S brand messaging also surrounded Twitch's most premium inventory, the homepage carousel, with Homepage Headliners attracting viewers to the digital storefronts on Sloot, JessU, and TheStaceyRoy's channels.
KD Flavour Boost experiences success with the gaming community
The result? After two months of advertising on Twitch and three custom livestreams, KD Flavour Boost left 7.4 million impressions on the Twitch community. Kraft Dinner also experienced a 100% lift in unaided awareness and a 33% lift in aided awareness among viewers who witnessed KD's program on Twitch.
Canada's unofficial national dish forged new ties with the gaming community, with KD experiencing a 33% lift in associations with gaming, and made valuable contributions to the Twitch community by spotlighting up-and-coming streamers. By leaning into Twitch's unique culture and playing co-op with streamers, brands can find new ways to share their products with relevant—and passionate—communities. 
Featured highlights
72 'Bits for Boost' Cheers
690 prizes awarded by Kraft Heinz Canada
7.4 million media impressions
100% lift in unaided awareness
Sources:
Twitch Internal Data. 8/10/21, 8/17/21, and 8/18/21.
Twitch Research Power Group (RPG). Brand Lift Study for KD Flavour Boost. CA. Fielded 6/24/21 – 8/16/21. A18+.